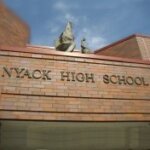 by Roger S. Cohen
Never would I have thought that I would even consider voting No in the school budget vote on May 15.  Until now'€¦.
Nyack's outgoing interim schools' superintendent says that the Nyack School District must fire teachers and cut back teaching programs, because of a budget shortfall.  It seems that the district needs another $150,000 – $200,000 to protect the teaching program during the school year 2011 -2012.
The district could have found that money — $216,780 — in their spending on security.
During this 2010 '€" 2011 school year, the Nyack School District spent a small fortune on a video system for the high school '€œpilot program to have students stay in school for lunch.'€ We don't know if the amount was the originally-budgeted $300,000, or an occasionally-discussed amount of $167,000.
We do know, however, that the proposed 2011 '€" 2012 school budget includes an increase of of $93,655 for '€œSecurity,'€ to $502,538. That increase is on top of an increase of $123,125 in 2010 '€" 2011.  That's an increase of $216,780 in two years for '€œsecurity'€ — a 57% increase in two years.
Nyack High School Security Budget
2009 vs. 2011: A $216,780 increase
| Year | Cost | $ Change |
| --- | --- | --- |
| 2009 '€" 2010 | $379,413 | — |
| 2010 '€" 2011 | $502,538 | +123,125 |
| 2011 '€" 2012 | $596,193 | +$93,655 |
Source: Nyack Union Free School District, 2012 Fiscal Year, Budget Presentation Detail
That 2011 '€" 2012 budget increase would have been saved simply by saying: '€œThe Nyack School District is nearly bankrupt. Therefore, we're cutting costs, and saving on new expenditures.  As a means of keeping the budget as low as possible, the district will save $216,000 in two years, simply by having all pupils stay on-campus during lunch. That will go a long way to saving the teaching program.'€
Instead, Nyack Schools will expend $216,780 on new security expenses.
Now the district claims to be out of money, and so they must fire teachers.  They claim to be out of money largely because of additional retirement liabilities, all of which have been projected for many years.
Here we have identified at least one budget item that would have saved a teacher, and other educational programs.
I can't imagine trusting the school board with more money, after such mismanagement and wrong-headed, wasteful, decisions.  On what other bankrupt planet does school management choose to waste money, instead of retaining teachers?