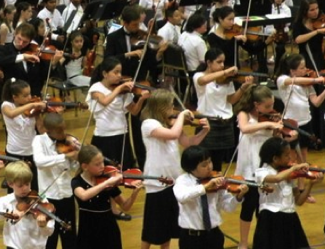 by Nancy Sall
Over 300 orchestra students spanning grades 4-12 performed at one-of-a-kind string spectacular at Nyack High School last Sunday in the 7th Annual Jimerson String Festival under the direction of Ms. Christine Gero.
Fourth graders, directed by elementary school teacher Matt Lucero, started off the afternoon with a performance of Seranta, Crazy Twinkle Fun, and Twinkle Twinkle Little Star followed by 5th grade renditions of Hey Fiddle Fiddle and Pirates of the Caribbean. Ms. Ann Winze, elementary and middle school orchestra teacher, conducted the middle school orchestra in Spring from the Four Seasons, Red Pepper, and Variations on a Well-Known Sea Chantey. The middle school concert orchestra also performed Led Zeppelin's Kashmir (Led Zeppelin on strings'€¦ who knew?).
The high school performance included Dance from Brook Green Suite, and Harry Potter and the Order of the Phoenix. The high school chamber orchestra performed Allegro from Concerto for Four Violins in B minor (which was simply amazing) and Sing, Sing, Sing (which brought the house down).
Emcee Bob Silarski noted that listening to each of the orchestras was like polishing a fine gem — their beauty increased as they went through the progression from elementary to middle to high school.
The grand finale, all 300+ students playing together, was the Overture from Orpheus in the Underworld.  The feeling one gets watching these students come together and make music is difficult to describe. As Gero said, the students perform not for awards or accolades, but '€œto create something better and more beautiful than they did the day before.'€ A festival like this allows our whole community to share in their beauty.
The Jimerson Festival was created in honor of educator Claudette Jimerson who founded the Nyack strings program over 30 years ago. Gero noted that beyond honoring Mrs. Jimerson, the festival provides three things: inspiration, motivation, and a sense of community. She stated that, '€œNyack is a very unique and special community'€ that makes a connection between a good education and a commitment to the arts, athletics, and academics '€" all necessary components in educating the '€œwhole child.'€
Photo Credit: Richard Kavesh