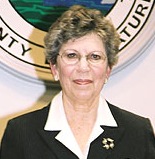 by Harriet Cornell, Chairwoman, Rockland County Legislature
I applaud the fact that Governor Cuomo is trying to get New York State's fiscal house in order'€"and to do that it can't be business as usual. He is trying to construct a leaner, more consolidated government. That is certainly a difficult task. And sacrifices must be made. But for too long now, sacrifices have been asked'€"not from those who can most afford them'€"but from those who can least afford them. A cap on property tax will continue this pattern, particularly for Rockland and a few other counties which have kept county property taxes very low. This will inevitably reduce how much Rockland County can provide in services to its neediest citizens or continue the work we do in local economic development to get our people working. Don't forget we are a border county, competing with New Jersey for tax rate-ables which can provide good jobs for our residents and help our tax base.
Many of our budget woes here are the result of Medicaid policy. I can remember from my earliest days in the Legislature the promise from state officials that the state would soon take over the obligations of Medicaid. That has never happened.
New York is one of only two states where counties are required to pay half of its Medicaid costs. That is a mandate. We have no choice on that. All of our property taxes, and more, go to pay Medicaid. In other words, the state has allowed us to collect only five dollars to run what it insists must be a ten dollar store.
Nobody likes to pay taxes, and yet, we should appreciate what our taxes do. County taxes pay for public health, public safety, public welfare. We pay for plowing and maintaining roads, fixing drainage and flooding problems, protecting residents from harm. It's time to have an adult conversation about taxes. Right now, the marginal rate on our wealthiest Americans is the lowest it has been since 1931, hardly the year you want to economically emulate.
We keep hearing how raising taxes on our wealthiest Americans is bad for the economy. President Clinton did that, and our economy soared. President Bush lowered taxes on our richest citizens, and our economy soured.
Let's be clear: tax caps will not lower anyone's taxes. Tax caps will not help anyone who cannot afford their current property taxes. Tax caps will not change the demand or need for local services. In fact, during these recessionary years, we have seen a strong increase in the need for government services.
Harriet Cornell is the Chairwoman of the Rockland County Legislature representing the 10th district including Nyack, Upper Nyack and Valley Cottage.