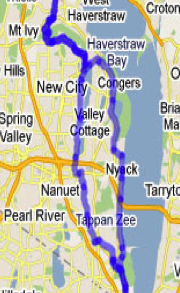 by Dave Zornow
Nyack, May 7 — This Sunday about 2500 cyclists will ride by The Runcible Spoon bakery, a popular destination for NYC bikers. But unlike most weekends, most of them won't be stopping for a scone or a muffin. The Gran Fondo, a 40 year old Italian cycling tradition, comes to New York City and rides through Nyack early Sunday morning (5/8).
The Gran Fondo is a challenging 100 mile course from the George Washington Bridge to Bear Mountain and back. The route takes riders through South Nyack on Piermont Ave, turning left on Main Street in Nyack past O'Ds and the Mazeppa Fire Station, then turning right on North Broadway. Cyclists will turn left on Old Mountain Road in Upper Nyack and then right on 9W. Event organizers predict the bulk of the riders will come through Nyack between 8a and 9:30a Sunday morning.
Cyrus Afzali from the Rockland Bike Club says two factors about the Gran Fondo make it especially challenging. "Because many people haven't been able to ride/train aggressively prior to the race, the course and the amount of climbing  will be a factor," he says. "The other consideration is the unpredictable spring weather. If you have very windy conditions, such as we've had over the past few weeks, that can really make things tough on riders, from both a physical and mental perspective." Afzali says one of the bonuses of running the Gran Fondo through Rockland is the prospect of raising the visibility of cycling as a sport. "I hope it will do a lot to foster better understanding and attitudes between cyclists and motorists," he says.
The featured climb of the event, the "Cima Coppi" (highest point of the ride) is the almost four mile climb up Bear Mountain in Harriman State Park. The ride finishes at the Palisades Interstate Park's Carpenter's Circle in Englewood Cliffs, NJ.
In addition to bringing a European cycling tradition to the New York area, the event organizers can claim another first. According to BenepesBikeBlog, event organizers convinced the Port Authority of New York and New Jersey to close a portion of the lower level of the George Washington Bridge and oncoming ramps for the start of the race — a cycling first in the NYC area. How did they do it? '€œLidia's persistence,'€ said Mr. Fluhme. Organizers are paying the Port Authority close to $50,000 to close the bridge on-ramp at 165th and Riverside Drive bridge and the two lower level lanes on the bridge. That fee includes placing carpets on the roadway so cyclists' wheels won't get stuck in the grating.
Which helps explain why cyclists are paying a hefty entry fee of $231 to ride the Gran Fondo and $184 to cycle the shorter Medio Fondo route.
In addition to drawing cyclists from 57 countries, Gran Fondo attracts bike enthusiasts and volunteers from across the tri-state area. Rockland Bike Club members Shawn and Debbie Frederick are volunteering at the Piermont rest stop — reporting to duty at 5a Sunday morning. "We've relied on local volunteers while cycling in Canada and running marathons in Ohio, Virginia and Massachusetts," says Shawn Frederick. "Now for the Gran Fondo WE'RE the locals," he says. "We've lived in the Nyack and Piermont for over 25 years, and we've seen the communities embrace bicycling with an enthusiasm seldom seen in big-city suburbs." Frederick says he's proud of Rockland County's scenic "Bike Route 9" and of the three great local bike shops in the area. "Bicycling is a wonderful way of life here on the east coast of Rockland County, " he says. "Now we want the world to see this area the way we do!"
See also: