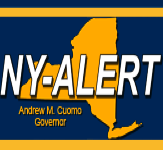 Rockland County, May 18 7:10a — The fourth straight day of rain is straining streams and creeks throughout the region. The National Weather Service has declared a Flood Watch in effect for Rockland, Northern Westchester and NE New Jersey through 3am.
A nearly stationary storm system over the mid Atlantic states will push a constant stream of moisture into the region through late tonight. Rain and isolated thunderstorms capable of producing locally heavy rainfall are expected. An additional 1.5 – 2.5 inches of rainfall is forecast through tonight. This amount of rainfall likely will cause the flooding of small streams and creeks as well as flood prone urban areas.

A Flood Watch means there is a potential for flooding based on current forecasts. You should monitor later forecasts and be alert for possible flood warnings. Those living in areas prone to flooding should be prepared to take action should flooding develop.
Source: National Weather Service