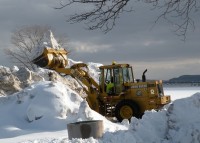 by Richard Kavesh
Remember that huge snow storm the day after Christmas that dumped more than two feet of snow on Nyack? How can we forget? Well, President Obama took note of it as well and back in February declared Rockland County communities eligible for federal disaster relief. Since then we've had several meetings with local emergency management officials.
On Friday, Village Administrator Jim Politi met with SEMO/FEMA [State Emergency Management Office/Federal Emergency Management Agency] officials to discuss the final paperwork for that epic storm and to determine how much federal relief Nyack would be entitled to.
Jim reports that Department of Public Works head Victor Overton did a great job in compiling the numbers for the application and that we submitted total costs of $27,998.72 to FEMA/SEMO. Nyack will recover 87.5% of that number, equaling $24,498.88 from the federal government. It will take a few weeks for the village to receive the check.
I want to thank Jim Politi and Victor Overton for doing such a great job in putting together the application and documenting the hours we put in during that epic snow storm as well. I know that all of us are grateful to Victor and his workers for their yeoman efforts in digging us out of the worst of our countless snow storms this past winter and for clearing all of our streets down to black pavement within 24 hours after the Boxing Day storm. Our DPW is the best there is.
Richard Kavesh is the Mayor of the Village of Nyack, NY.