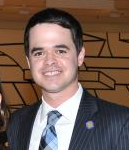 by David Carlucci, NYS Senator (D- Rockland)
I was elected to the State Senate on a promise to reform Albany and restore integrity to state government.
Breaking the cycle of dysfunction was one of the key reasons I helped form the Independent Democratic Conference.
That is also why I've introduced important legislation that would stop disgraced public officials and public employees from collected their taxpayer-backed pensions.
Simply put, if you abuse the public's trust, you shouldn't enjoy a public pension.
Recently, Governor Cuomo has come out strongly for this proposal and said he will soon be putting his name on legislation that will have New York join the 22 other states with pension forfeiture laws on the books.
This cannot happen soon enough.
Time after time, we have seen those elected to represent us get caught breaking the law and abusing their offices.
This bi-partisan shame has marred our entire state government.
My legislation, (S.4947) would make it so that any public servant convicted of a felony related to their positions would have to pay an ongoing taxpayer abuse assessment that is equal to their pensions.
This would end the double victimization committed against taxpayers each time these bad actors cashes a pension check. It also protects the rights of public servants who play by the rules and pay into their pension system.
I believe this measure will also serve as further deterrents to power hungry individuals who wantonly violate the public trust.
My proposal is part of a comprehensive ethics reform plan that the Independent Democratic Conference recently proposed.
The other parts of the package include:
Revamping and strengthening the agency charged with policing the State Legislature
Increasing disclosure requirements for outside income for legislators;
Giving the Attorney General sweeping new powers to root out public corruption
Creating whistle blower protections for legislative employees who report malfeasance to the proper authorities.
These proposals, coupled with my legislation, would go a long way towards cleaning up state government and putting Albany back on the path of respectability. I am pushing as hard as I can to get them made law this legislative session.
Senator David Carlucci represents New York's 38th Senate District which includes Rockland County and Warwick, NY.