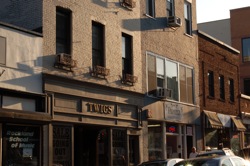 Two Nyack municipalities and one non-profit will receive almost $100,00 in Community Development Block Grants (CDBG) from the Department of Housing and Urban Development. Rockland County's HUD funding was announced on Monday by County Executive Scott Vanderhoef.
The county's share of CDBG funding totals $1.9 million. '€œWe are grateful for this grant funding that will go to much-needed programs, services and projects throughout the County that will better serve our residents and enhance our community as a whole,'€ said Vanderhoef.
Nyack's Streetscape program will receive $45,000. South Nyack will receive $40,000 in funds to resurface Cedar Hill Road. Another $12,000 will go to the Nyack Center to fund the Teen Computer Time program.
The grants were awarded to municipalities, groups and agencies that provide social services, housing, and revitalization and improvement programs for Rockland residents in lower-to-moderate income brackets. The funds are provided by the United States Department of Housing and Urban Development.
"We are thrilled to get this important grant," says Kim Cross, Executive Director of The Nyack Center. "It provides a vital support to Nyack students who do not have internet/computers at home."  Cross says the Nyack Center computer program is open all year round. "This access helps ensure that all students have the tools to do their work and be successful in school," says Cross.
Nyack will fund its $1.3 million streetscape improvement effort from a variety of sources. In addition to the new $45,000 grant, $180,000 from a previous application will be combined with a CDBG "108 Loan Program" of  $750,000. Nyack will carry the remaining $370,000 for the project.