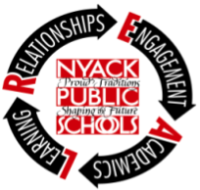 Voters in the Nyack School District go to the polls next Tuesday to select trustees and approve a $71.3 million budget. Turnout is expected to be light, with only about 10-15 percent of registered voters casting a ballot on Tuesday, May 17. Polls open at 7a and close at 9p. Visit NyackSchools.com to find out where to vote.
Voters will be asked to approve a 2.9 percent increase for the the Nyack Schools 2011-12 budget. An overview and budget detail by spending category are online at NyackSchools.com.
NyackNewsAndViews.com has created a School Board Election page for each candidate to post materials about their campaign. Please note that all candidates have been provided an opportunity to post information about their candidacies — links are provided for those who submitted this information. NyackNewsAndViews has also offered free advertising to each campaign.
Here are the 2011 school board candidates:
Supporters who have posted endorsements for the candidates include:
See also: