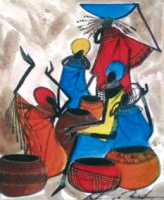 An award winning area marching band and a pair of NFL stars will parade with local celebrants in Nyack's third annual African American Day on Saturday May 14. The parade steps off at 2p down Main Street followed by a multicultural festival in Memorial Park.
A portion of the musical entertainment during the parade will be provided by the famous East Ramapo Marching Band, winner of over 250 awards in 20 years. The East Ramapo Marching band has performed in the NYC Columbus Day Parade, at Giants Stadium, in the Apollo Theatre and on the AMC TV series Rubicon.
Nanuet natives and National Football League players Devin McCourty (New England Patriots) and Jason McCourty (Tennessee Titans) will march on Saturday. Local marchers include Nyack's Fire Department (Chelsea Hook & Ladder/Jackson Hose), the Buffalo Soldiers of West Point, the JAMCCAR Steel Band and the 2011 Golden Gloves Champ, Nyack's own Max Tassy.
Nyack NAACP President Francis Pratt and Everett Swan, recipient of the Honarary Buffalo Soldier award, will be the parade Grand Marshals.
The parade route starts at the old Nyack High School field (N. Midland Ave & 5th Ave across the street from Nyack Hospital) and ends at Memorial Park in Nyack. Parking will not be permitted on the parade route between 12n and approximately 3p.
After the parade, there will be entertainment in Nyack's Memorial Park including music, dance, poetry and a fashion show featuring Trendsetters/Nyack, HopeWade Designs, Kurvacious Plus size designs. The post-parade festival in the park includes crafts and foods hosted by local vendors as well as community service organizations.
See also: African-American Day parade set for Saturday in Nyack, Journal News, 5/8/2011