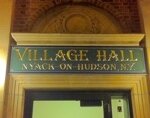 by Dave Zornow
Nyack, April 7 — Nyack's tax increases over the past two years have been whoppers: 9.49 and 8.5 percent respectively in 2009 and 2010. Given the cuts in state aid and the rising cost of employee heath care, village homeowners should be bracing for another over-the-top increase. Yet the 2010-11 tax hike is a tiny 1.6 percent. You never want to question good news…but inquiring minds still want to know: what gives?
"If we did not consolidate our debt, instead of a 1.6% tax increase, we would be looking at an 11.7% tax increase," says Village Board member Doug Foster.  Nyack started the fiscal year with $700,000 in debt but was able to take advantage of low interest rates to refinance those obligations.
Deputy Mayor Jen White credits Village Administrator Jim Politi and his team for the turnaround. "Jim Politi quickly refinanced all of our debt and saved the taxpayers $350,000 in interest payments that has helped dig us out of the financial hole we found ourselves in," she says. Politi, Nyack's first village administrator, was hired last Spring along with part-time treasurer John Malesardi, a former bank executive in a "tax-neutral" staffing change to replace retiring Village Comptroller John Cincotta.
White says new financial controls will improve fiscal accountability in Village Hall. "Jim and John have implemented systems that allow us to actually know where every penny of taxpayer money is going and requires every employee in Village Hall to hold to a very strict budget," she says.
Full-time employees will receive a 3.75 percent increase in their pay per collective bargaining agreements. Village board members will not receive any pay increase in 2011-12.
Nyack Mayor Richard Kavesh says virtually all programs will be funded at 2010 levels in the new budget, despite the need to pay almost 60 percent more to the NYS pension fund. "We were able have a tentative tax increase of less than two percent while not laying off anyone or having to cut back any village services," he says.
Village officials say that the bond refinancing will have a long term effect as Nyack's debt service because of the $350,000 reduction in interest payments. "We have reduced our cash outflow for many, many years," says Foster. "The 11.7% tax increase we would have paid next year would only service next year's debt service, not pay off the debt, so the cycle would have continued," he says.
The Nyack Village Board will hold a public meeting on Thursday Apr 14 at 8p to discuss the final budget.