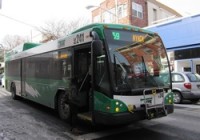 Nyack, April 27 — A revamped edition of tzxBus.com, the easy to use online Tappan Zee Express / Metro North schedule finder, is now available.
tzxBus.com shows a simplified schedule for the next Tappan Zee Express Bus or Metro North Train connecting your nearest Rockland County bus stop with Grand Central Station. The new site includes the following enhancements:
Buses and trains enroute are now included in the available list of routes but are displayed in a diminished color.
Saturday schedules are now included.
Although TZx fares are increasing to $3 a ride beginning May 16, it's still one of the best commuting deals around. Bargain conscious commuters can save almost a buck a ride by buying Supersaver tickets in advance from the Rockland Department of Transportation. Using Supersavers, you can take the $3 ride for a cost of $2.20 a trip.
See also: Tappan Zee Express: Exact Change Please. And More Of It, 4/14/2011
Here's information from Rockland County on how and where to purchase Supersaver Tickets,
SUPERSAVER TICKET FARE

SuperSaver Tickets are a volume-discounted fare option. Tickets must be purchased in volume – 20 tickets for $9.00. The TOR SuperSaver discount is 40% off the cash fare. The TZx SuperSaver discount is 33% off the cash fare. SuperSaver Tickets may also be used on Clarkstown MiniTrans and Spring Valley Jitney buses. SuperSaver Tickets cannot be combined with other discounts. SuperSaver Tickets can be purchased at the following locations:

ROCKLAND SUPERSAVER SALES OUTLETS

David's Check Cashing (Suffern, Nyack, Spring Valley, Haverstraw)
Garnerville Cards & Gifts, Rt.202
Inserra Shop-Rite Supermarkets (4 locations, one across from Palisades Mall)
Monsey Community Outreach Center
Multi-Services Shop and Travel, 90 Orange Ave, Suffern
Ralphie's Diner, 8 Remsen Ave, Monsey
Rockland Community College @ Bursar's Office
Rockland Kosher Supermarket @ Shopper's Haven, Monsey
Dominican College @ Career Dev. Office

Clarkstown, Orangetown, Ramapo Town Hall

Airmont, Haverstraw, Hillburn, Montebello, Sloatsburg , Spring Valley, Wesley Hills Village Hall

Rockland County Clerk's Office
Rockland County Department of Public Transportation
Yeager Health Center, Building T (call 845-364-3333

Or send check (made payable to Commissioner of Finance) with self-addressed envelope to: SuperSaver Tickets, Rockland County Department of Public Transportation, Building T, Pomona, NY 10970.