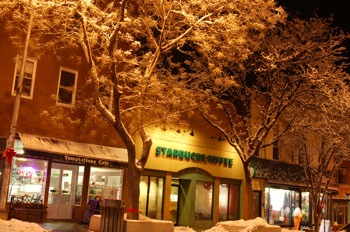 by Dave Zornow
Main Street in Nyack will undergo a block by block facelift this summer beginning in June. Sidewalks, crosswalks, overhead lighting and trash receptacles will all get a new look complemented by a new road surface in October.
Crews will start at Franklin and Main Street — in front of the M&T Bank Building — and work their way East toward Broadway. When work on the South side of Main is complete, crews will work the opposite side of the Main starting again at Murasaki Japanese Cuisine and working toward Turiello's Pizza. The schedule has been arranged to minimize disruptions to the 40th Anniversary Hopper House celebration and the summer outdoor cafe business for restaurants on Main Street. Construction will take place Monday-Friday from 7a-3:30p.
A-Tech Concrete Company, the prime contractor, expects to be able to rip up sidewalks one day and pour replacement concrete the next for each section of construction. "We're talking about weeks of disruption," says Streetscape Committee Chairperson Carol Fleischmann. "We are only talking about a couple of days for each merchant."
Landscape architect Michael Hakim worked with the village, merchants and the Streetscape Committee to create Nyack's new look downtown. The project includes the following features
Use of an inlaid thermoplastic material to better outline the crosswalks. The material is long lasting and more durable than paint.
Replacing the current trees and shrubs with landscaping designed to add shade to the ground level and privacy to second floor residences and offices.
Addition of handicap cutouts to all crosswalks.
New benches throughout the downtown district along Main by the storefronts of the eateries.
New lighting similar to the '€œblack acorn'€ lights used on South Broadway.
Adding additional trash cans with '€œbutt caps'€ to extinguish cigarettes.
Recycling containers on Main Street.
New pot planters which double as bollards to protect pedestrians from street traffic.
Increased pedestrian safety by adding bump-outs to cross walks and adding a subtle curve to the center line on Main Street. Both measures are designed to slow the flow of traffic.
Nyack officials expect the five month project $1.3 million project to be completed by November 1.