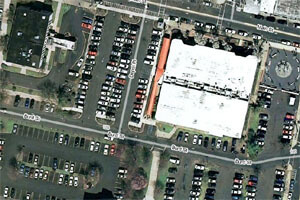 by Dave Zornow
Nyack's Village Board will hold a workshop meeting on Thursday 4/21 at 7p to discuss a draft "memorandum of understanding" (MOU) designating Riverspace as the village's partner in creating a redevelopment plan for a Superblock in downtown Nyack. The agreement requires Riverspace to contribute $200,000 to pre-development costs for the planned construction of a performing arts cultural center to be supported by commercial, residential and retail revenues. As part of the agreement, Riverspace will take responsibility for launching a capital campaign with a minimum of $2 milllion in pledges to subsidize operation of an arts center not covered by revenue from the income producing properties.
Riverspace is a non-profit group which renamed and operated the former Helen Hayes Theatre in Nyack from 2007-2009. A feasibility study last Fall commissioned by The Village of Nyack and funded by entertainer and Riverspace Board Member Rosie O'Donnell recommended issuing a RFEI (Request For Expression of Interest) seeking developers and ideas for redeveloping the 3.65 acre parcel which includes Riverspace and the M&T Bank. Nyack and Riverspace will hire a planning consultant to create the RFEI, evaluate responses, and develop a "Master Conceptual Redevelopment Plan" for the Superblock if responses to the RFEI indicate that redevelopment is an economically viable option.
"I think it is incredibly important for Nyack to determine, once and for all, after many years of looking at the Superblock, whether this makes sense for our community," says Deputy Mayor Jen White. "I hope it's something exciting but even if it's not, we'll know we examined every possibility for that part of the village," she says.
The MOU specifies that both Nyack and Riverspace must be actively involved and must jointly endorse the final plan "in order for a Public/Private Partnership between the Village and Riverspace to proceed beyond the preliminary planning process." Riverspace says the pre-development phase described in the MOU will not cost taxpayers any money.
"This is a very exciting milestone to have reached after years of discussion and investigation," says Village Board Member Doug Foster. "We have a written agreement and a roadmap about how to move forward."
The draft MOU requires Riverspace to fund a performing arts cultural center $2 million capital campaign within 180 days of the approval of the final Superblock redevelopment plan. Both Nyack and Riverspace say that number will probably be adjusted upwards to send a confident message to potential contributors.
Nyack in turn agrees to seek federal, state and county infrastructure funding to assist Superblock redevelopment and support the fundraising efforts of Riverspace. The MOU specifies an exclusive arrangement between the village and Riverspace regarding Superblock redevelopment.
The workshop meeting, scheduled for Thursday 4/21 at 7p, is open to the public. A pdf of the 15 page draft Memo Of Understanding can be found at Nyack-NY.gov.