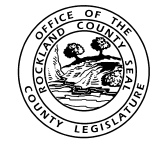 South Nyack, April 26 — Orangetown Town Board Democrat Nancy Low-Hogan has announced that she will run for the Rockland County's Legislature this Fall. "I think we need to re-invent our concept of county government," says Low-Hogan. She announced her candidacy to represent Rockland's 17th Legislative District, a seat currently held by Connie Coker, who will not seek re-election.
"County government performs critically important functions, but it has been too inefficient, too expensive and it has failed to address some of the most critically important issues that face our community," she says. Low-Hogan plans to campaign on fiscal responsible for the county and environmental concerns including water, air, traffic, land use and population density.  She will also advocate for members of the community who depend on county services.
First elected to the Orangetown Council in 2007, Low-Hogan's term runs through December 2011. "My record in Orangetown as a thoughtful, independent, honest, straightforward voice represents what the residents of the 17th Legislative District can expect from me,'€ she says.
In 2006 she ran unsuccessfully for the New York State Senate, losing to incumbent Thomas Morahan.
Low-Hogan has worked in the education field for 30 years. She served as CEO and Associate Provost of the Rockland Graduate Campus of Long Island University for 14 years through last June. Low-Hogan has a Ph.D. in higher education from New York University, a Master's degree from Seton Hall University and a Bachelor's degree in Criminal Justice from the University of Delaware.