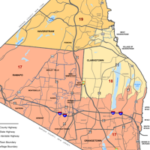 There are two showdowns on Monday night with a lot at stake. Years in the making, contestants will clash with the final results having an impact that will reverberate for years.
Rockland County Legislators Michael Grant and Ian Schoenberger will hold a public meeting of the Legislature Redistricting Committee Monday night at 7p. Oh, and there's a basketball game on Monday night, too.
While Butler and UConn go head to head in Houston at 9p on CBS, a lot is at stake locally. Nyack and South Nyack's District 17 grew 7.1 percent between the 2009 and 2010 census. The district is represented by Legislator Connie Coker who announced last week that she would not be running for re-election when her term expires. Population growth was flat in District 10, home to Upper Nyack and represented by Rockland County Legislature Chairwoman Harriet Cornell.
The two districts with the greatest population increase over the last ten years were Hillburn (District 6 grew 27 percent) and New Hempstead's (a 25 percent increase in District 7). There are almost 25,000 more people living in Rockland County in 2011 — an 8.7 percent since the 2000 census. Maps of the current districts and updated census information for each geography are online at the Rockland County Legislature's Redistricting Website. The 2010 Census data are also available online.
The Legislature's Special Committee on Redistricting will discuss the preliminary district maps based upon the 2010 Census data designed to redistribute the countywide population of 311,687 into 17 legislative districts.
Those definitions will affect politics, politicians and county money for the next ten years. Although important to the future or Rockland County, it can't hold a candle to U Conn vs. Butler in the final game of the 2011 Final Four. But then again, ten years from now, how many people will remember who played in the 2011 final?
The Special Committee will meet on Monday, April 4, 2011 at 7p in the Legislature Chambers, 11 New Hempstead Road, New City, NY. The meeting is open to the public.