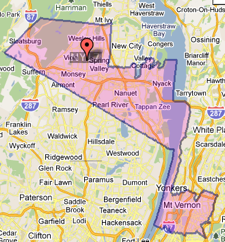 by Cliff Weathers
Regardless of whether New York's congressional redistricting is handled in a civil, bipartisan manner, it appears that the Lower Hudson Valley is due for some big changes in 2012.
Census data released last month, shows that Rockland, Orange, and Dutchess Counties had relatively substantial increases to their populations, while Putnam and Westchester Counties had more modest increases. And with some counties, such as Greene, Columbia, and Ulster showing more stagnant growth and with 17 Upstate and western counties such as Hamilton, Delaware, and Oswego showing population decreases, New Yorkers can expect at least one of its two Congressional seat losses to come from the North. Further, all counties downstate of Lower Hudson Valley have shown at least modest population increases.
So, what does this mean for residents that live in the 17th, 18th, and 19th Congressional Districts? At the very least, they can expect those districts to move northward and westward, taking up the slack from upstate while allowing for some population shifts in New York City, where insiders speculate that districts like the 15th and 16th (currently represented by Congressmen Charles Rangel and Jose Serrano respectively), might dominate the Bronx, perhaps even pushing the 17th district, where Rep. Eliot Engel has his southern front, out of the borough.
Looking over the census data, and understanding the importance of keeping together homogenous and contiguous communities, I've postulated what I believe could likely happen during Congressional redistricting. If anything, I think my predictions are conservative compared to others, and they play to the census data, knowledge of the region's communities, and the base need for both major political parties to fortify their current fiefdoms:
Long Island will have four Congressional Districts with one of them taking a very small part of the southeastern portion of Queens.
There must be at least 11 Congressional Districts within the five boroughs of New York City, the data tells us. But that leaves one district nearly 250,000 people short, so the northern most district will take up parts the southern Westchester County, likely part of Yonkers and possibly New Rochelle, Pelham Manor, and Mount Vernon.
Congrssional Districts 17 and 18 will likely move north, and possibly west. District 17 will likely begin in southern Westchester County with an upper border in the northern part of the county or further. District 18 should extend into Putnam County, possibly pushing well into Dutchess County.
Rockland County, with a near 2-to-1 registration advantage of Democrats to Republicans, will be split between two Congressional Districts'€"likely 17 and 18–currently occupied by Democrats. A north-to-south split of the County will be to the best advantage of the Democratic Party. The two districts may also take parts of Orange County as well.
To again solidify the 19th Congressional District as Republican territory, it must move to the north and to the west. Among the Lower Hudson Valley districts, this one will likely hold the least amount of current territory as it pushes past Dutchess County and takes up slack from the shrinking population to the north. Do not be surprised if its northern border touches Albany County or it pushes as far west as Delaware County. (Note: The current Representative, Nan Hayworth lives at the very southern end of the current 19th district, and it's quite possible that her current residence in Westchester County might end up being in the 18th or even the 17th District).
While I am not deluded enough to believe that my estimations should be written in stone, they are reasonable assumptions knowing some of the parameters involved. As a political observer, I am only giving a somewhat educated assessment, much in the same way that a sports columnist will tell you his NCAA college basketball brackets. You can't expect all the calls to go my way, but it would be an upset if I am to get it totally wrong.
How the district lines will eventually be drawn depends many nuances of demographic science, our State and Federal laws, and the whims and demands of politicians who seek to retain power. And no matter what rules are put into place there are many ways to draw districts. Even with a strict, non-partisan process, there are still dozens of ways to draw the lines that meet the criteria legally and legitimately.
Yet, New York's redistricting process is particularly worrisome because we do not have independent redistricting, despite nearly every candidate for the State Senate and Assembly swearing that they would support it during the 2010 election. Many state legislators, on both sides of the aisle, have reneged on an independent redistricting pledge that they made with former New York City Mayor Ed Koch's NY Uprising organization.
In New York and 35 other states, the legislature is responsible for redistricting, in many cases subject to approval by the state governor. To reduce the role that legislative politics might play, seven states (Arizona, Hawaii, Idaho, New Jersey, California, Minnesota and Washington), carry out congressional redistricting by an independent organization or bipartisan committee. Three states, Iowa, Florida and Maine, give independent organizations authority to propose redistricting plans, but the legislatures reserve the right to approve them.
In addition to equalizing the population of districts and complying with Federal requirements, criteria may include attempting to create compact, contiguous districts, trying to keep political units and communities within a single district, and avoiding the drawing of boundaries for purposes of partisan advantage or incumbent protection.
But in New York, where both chambers of our bicameral legislature are in charge of redistricting, the partisanship of statewide politics often comes into play, and there may be deliberate manipulation of the congressional boundaries for electoral advantage, a process which everyone who's taken high school civics knows as gerrymandering.
Because we have two chambers controlled by different parties, and those parties will get the final say in redistricting in each chamber, we can expect some wildly different outcomes between the New York State Senate and Assembly redistricting plans.
New Yorkers should brace themselves: This process of redistricting will likely become contentious very soon, and if the two chambers have not resolved their differences in a timely manner, the matter may unfortunately end up being resolved in State or Federal courts later this year.
Cliff Weathers publishes Left Of The Hudson, where this article originally appeared.
See also: Current New York Congressional Maps govtrack.us.