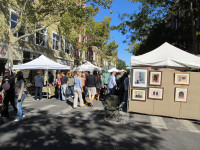 Here's a social media sampling of the first Nyack Street Fair of 2011, Springfest.
Last year Betty White was chosen to host Saturday Night Live after coming out on top in a Facebook online poll. "I didn't know what Facebook was," she said. "And now that I do know what it is, I have to say, it sounds like a huge waste of time!" Which is also the way many consumers and marketers feel. But that doesn't stop them from tweeting on Twitter and posting on Facebook, either.
So let's do a little experiment. Here's a list of vendors and Nyack businesses who tweeted about today's Street Fair. Drop by and say HI if you see them. And street fair vendors and Nyack Sunday visitors, tell us what you hear. Let's find out who is right: the always connected high tech tweeters searching for the Next Big Thing…or Betty White.