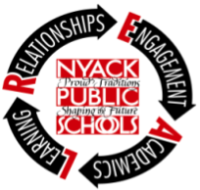 Four candidates running for three school board positions will answer questions from the public on Mon May 9 at 7:30p at Nyack High School.
Incumbents Claudette Jimerson and Thomas LaColla are asking voters to return them to new three year terms. Challengers Leeann Irvin and James Marshall are running for seats for the first time on the seven member Nyack School Board.
The annual School Board Candidates Forum is sponsored by Parent Teacher Associations of Nyack's elementary, middle and high schools.
Each candidate will have opening and closing statements and be required to answer several of the same questions posed by the PTA. They will then take questions from the audience. The budget and trustee vote will take place on Tuesday, May 17.
Nyack High School is located at 361 Christian Herald Road. For more information call 353-7013.