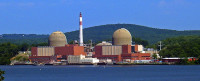 From Slashdot.com, a technology website (4/12/2011)
Early Tuesday in Japan, the government decided to raise the severity level of the accident to the maximum 7 on an international scale, up from the current 5 and matching that of the 1986 Chernobyl catastrophe. The [Japanese] government declared the level 7 emergency because it is now estimated that the crippled plant was emitting over 10,000 terabecquerels of radioactivity for a number of hours at the height of the nuclear incident. On Monday, the government had expanded the evacuation zone around the plant to include at least 6 cities up to 60 km away from the plant.
From LoHud.com, excerpts from a 4/8/2011 Letter To The Editor responding to "Weigh New Science In Relicense Review (4/2/2011),"
As the retired director of licensing for Entergy Nuclear Northeast and a person who worked in support of Indian Point for over 30 years, I read this editorial with interest.

Reviewing seismic activity is not a new concept at Indian Point. I was the manager at Indian Point responsible for funding and supporting a network of 10 micro seismometers in Rockland and Putnam counties under the direction of Columbia University's Lamont-Doherty Earth Observatory in the 1970s to evaluate concerns raised by New York state over possible seismic activity in the surroundings of Indian Point. This study, conducted over several years, concluded the seismic design of Indian Point is sound and the plants are safe.

I have lived less than four miles from Indian Point for 40 years and know that the plants are safe.

John J. Kelly is former director of licensing for Entergy Nuclear Northeast, which owns and operates the Indian Point nuclear facility. Visit LoHud.com to read the full text of this letter.
Three NY State Senators will hold a public hearing on May 12 in Stony Point regarding the safety of New York's nuclear power plants and their contingency plans in the event of a natural disaster. Senator David Carlucci (D-Rockland/Orange), Senator George Maziarz (R-C, Newfane) and Senator Greg Ball (R- Westchester/Putnam/Dutchess) will issue a formal report and recommendation based on these hearings
'€œThe Indian Point nuclear power plant, which sits within two miles of two intersecting fault lines has the highest risk of an earthquake causing its reactors core damage in the United States.  To ensure the safety of the 20 million people who live within the 50-mile peak injury zone, Senator Maziarz, Senator Ball and I will be holding a hearing focused on detailing plans and precautions in the event of a natural disaster,'€  says Senator David Carlucci.
"Indian Point is a huge employer and a huge producer of cheap energy. I've toured Indian Point and I believe they have solid internal security and safety mechanisms, that said, the recent disaster in Japan has raised serious questions of nuclear security as it pertains to disaster response and as Chairman of the Senate Homeland Security Committee I am acutely focused on assessing our overall preparedness," says Senator Greg Ball.
From Reuters, Nuclear fears keep shippers wary of travel to Japan, 4/13/2011
Foreign crew members remain hesitant to travel near Japan's quake-crippled nuclear plant, including to some ports outside the exclusion zone, forcing shippers to use Japanese vessels instead to transport goods, senior industry executives said.Maritime companies were supplying crew members traveling to the Tokyo Bay area, located 240 km (150 miles) from the damaged Fukushima nuclear complex, with special anti-radiation suits, Geiger counters and medicine.
From MarketWatch, Japan's nuclear-crisis level hits Asia stocks, 4/12/2011
Asian shares fell Tuesday on selling prompted by news that Japan's nuclear crisis has deteriorated to a level matching the Chernobyl disaster and after the International Monetary Fund said global economic growth should slow this year on emerging new risks.

Several materials-sector shares tumbled as crude-oil prices and some other resources pulled back on the IMF's views in its annual World Economic Outlook and after Goldman Sachs withdrew bullish recommendations on some commodities.

The day's sell-off gathered pace after Japan raised the crisis level at the Fukushima Daiichi nuclear-plant accident to the worst possible level on an international scale '€" the same level as the 1986 disaster at Chernobyl in present-day Ukraine. More earthquake aftershocks during the day also rattled investors.
See also: