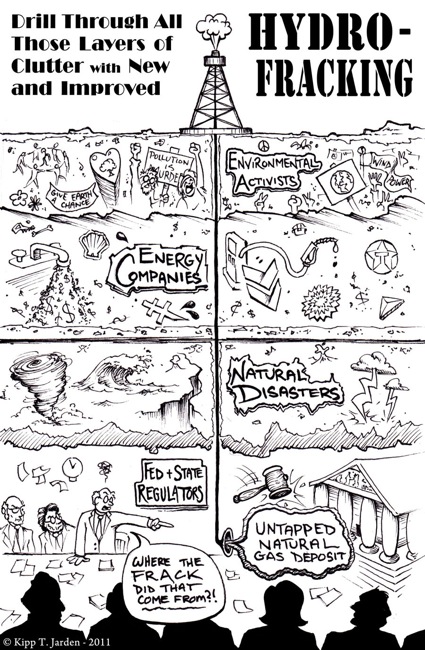 It's been said that oil and water don't mix. True enough — but if you really want to make the point, add in some money, politics and potable water and you have a volatile community issue capable of exploding tempers and occasionally a few houses, too.
Nyack illustrator Kipp Jarden explains it all in the first installment of a new cartoon series, "It Takes A Village." Earlier this week, NyackNewsAndViews published a story on hydrofracking (Fearing Frackingstein, 4/6/2011), a controversial technology that exploits trapped natural gas underground. It offers incremental energy independence and precious dollars for cash strapped rural communities but runs the risk of contaminating and depleting water supplies.
According to WNYC Public Radio, pro-gas drilling groups spent $1.5 million lobbying in Albany in 2010. This week, a report by Common Cause highlighted intense lobbying in Albany during the 2009-10 legislative session by energy companies and hydrofracking proponents who opposed a moratorium on natural gas drilling in New York State.
Analysis showed that the companies and entities which opposed a moratorium on natural gas drilling outspent those entities which supported the moratorium by a margin of 4 to 1. Lobbying totals for 2010 reached historic highs for the natural gas industry. Because of the substantial amounts it spent for advertising, Chesapeake Appalachia, the nation's second largest producer of natural gas, was the biggest spender among industry advocates of hydrofracturing, disclosing a total of $1,090,051 spent lobbying in 2010. In contrast, the biggest spender among the groups that supported the moratorium, Citizens Campaign for the Environment, an entity which lobbies on numerous environmental issues, not only natural gas exploitation, spent $159,232 lobbying in 2010.
Illustrator Kipp Jarden is a Nyack native with a BFA in animation from Savannah College of Art and Design who has a passion for creating visual art, especially in traditional forms such as hand-drawn animation and illustration.
See also: