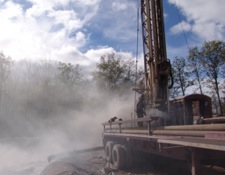 by Cliff Weathers
New York Attorney General Eric Schneiderman has thrown down the gauntlet and challenged the Federal Government to prove hydraulic fracturing is safe. Scheiderman has said that his office will sue to keep the drilling practice out of a state watershed if the Feds fail to do so.
Scheiderman insists that a full environmental review of proposed regulations be conducted before he would allow natural gas drilling and the potential for hydrofracking in the Delaware River basin. The watershed includes parts of New York's Southern Tier, Upstate, and the Hudson Valley. The nexus of the Delaware basin is where New York City gets more than half its drinking water.
"New Yorkers are correctly concerned about fracking's potential dangers to their environment, health and communities," said Schneiderman. "I will use the full authority of my office, including aggressive legal action, to ensure the federal government is forced to address those concerns."
Most hydraulic fracturing activities in New York have been suspended under and executive order by former Governor David A. Paterson. The order, executed in December 2010, directs the State's Department of Environment Conservation to conduct a comprehensive review and analysis of high-volume hydraulic fracturing in the Marcellus Shale.
Paterson issued the Executive Order after he vetoed legislation that would place a moratorium on hydraulic fracturing. Permits for hydraulic fracturing can not be issued until the the DEC's Supplemental Generic Environmental Impact Statement (SGEIS), is completed, which create a de-facto moratorium.
The DEC report was supposed to be completed on or around June 1, with at least 30 days for public comment, now the agency says it will not be finished until late summer.
Cliff Weathers publishes Left Of The Hudson, where this article originally appeared.
Photo: Hydro-fracking site. Credit: Josh Garrett, HeatingOil.com