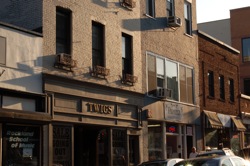 The Wall Street Journal turned its business focus on Nyack this week visiting the village and about a dozen merchants downtown. If you live in the village, reading the story isn't going to tell you much you don't already know — although it's always interesting to get an outsider's perspective.
The downturn has been rough on business like Kashan Rug Gallery on South Broadway (down 50%) and Chef's Market (which opened last April and closed its doors by October).
Business has been brisk for Café Barcel and the Pour House.
Bonnie Kelly with Wright Bros Realty says Nyack is a walkable village where ex-cityfolk can live in a suburb that still has a urban feel.
The days of being an antique centric village are over according to Antiques Masters' Manager Mohamed Mahmoud. "Nyack is losing its feel as an arts and antiques town and becoming just a town," he said.
Casa Del Sol didn't get a mention, but they did a great picture (I wonder how many people will come to the village looking for the Casa Del Sol Museum? :>)
The paper that's all business recognized that Nyack is more than just that giving some ink to the arts, too. WQXR's Elliot Forrest, The Hopper House's 40th anniversary, Rosie O'Donnell's donation to the Superblock Feasibility study and the Nyack Library's Carneige Room Concerts all received mentions.
Source: Antiques Stores Awaiting Rebound in Nyack, Wall Street Journal 4/1/2011