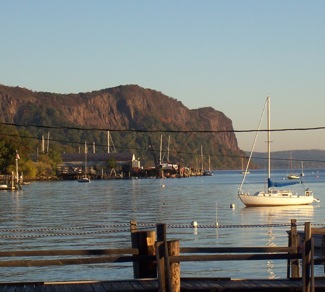 The next time you "hike the Hook" or take in the beautiful Hudson River views from Nyack Beach State Park, remember that only 100 years ago it was all an active quarry.
John Warren writes at the  NewYorkHistory blog:
One hundred years ago this month, less than a year after the Harriman gift of $1,000,000 and 10,000 acres was leveraged to raise an additional $4.5 million in private and state funds, the Palisades Interstate Park Commission began its purchase of the five quarries that were steadily eating away at the stately Hook Mountain ridge between Nyack and Haverstraw, New York.
The "power house" building in the parking lot of Nyack Beach State Park is aptly named, because at one time that was where the Manhattan Trap Rock Company would crush rock and load it onto barges. "A beautiful dutch colonial sandstone building that sits at the foot of the mountain, was transformed into a bath house when swimming in the Hudson was still permitted,"  writes Warren. "This magnificent example of adaptive use is now experiencing a second wave of interest by the community as the anchor of Nyack Beach State Park."
"Hook Mountain whose name is derived from the Dutch Verdrietige Hoogte (tedious or troublesome point), refers to the contrary winds that sailors encountered while trying to round it," writes AnaBananaBikes.blogspot.com,
The Hudson River is at its greatest width at that point, according to a letter printed on October 1, 1909 by a Mr. Charles Bellamy Culver to the New York Times in which he angrily denounced the latest efforts by various parties to blast one side and burn the top of Hook Mountain "to celebrate the discovery of the river of which it is one of the greatest sights." No one would accept his plea to buy his land to preserve it, said Culver, including the Palisades Commission who at the time said they had no funds to do so.

Indeed, at the time (about 102 years ago) Culver had been trying to sell his 4 acres that reached to the summit to any party for $5,000 so that they could preserve the mountain. Hook Mountain like many cliff areas along the Hudson River from New York City to Nyack, was about to be blasted and the rock quarried for commercial purposes. In all, 31 smaller quarries between Piermont and Nyack were operating and "sentiment was growing to stop this defacement," wrote the New York New Jersey Trail Conference in their summary of the 732-foot high Hook Mountain.
Read the complete blog posts at NewYorkHistory and AnaBananaBikes.blogspot.com.
See also: