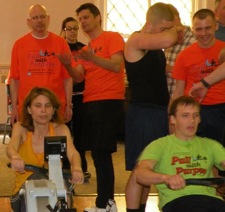 by Dave Zornow
This Week In Politics,  3/20/2011: Nyack's Village Board joined 16 other teams to help a fund raising row-a-thon; the 2011-12 school budget leaves educators gasping and tearing; the State of the County is either steadily improving or potentially imploding, depending on if you work for the executive or legislative branch of county government.
Here's the weekly roundup of  pols' press clips, releases & proclamations:
The "Pull with Purpose" Row-A-Thon raised $9,000 for the River Rowing Association and the Nyack Center on Sat Mar 19. Nyack's Trustees and public committees were well represented: Mayor Richard Kavesh, Steve Knowlton, Jen White and Doug Foster from the Village Board; Alan Englander and Elyse Berg from the Planning Board; Catherine Friesen and Glenn Keane from the Zoning Board of Appeals. '€œThe Pull With Purpose Row-A-Thon is Nyack at its best: people working together at a great event to benefit a great cause,'€ said Nyack's Mayor Richard Kavesh.
County Exec Scott Vanderhoef gave his 18th State of The County address on Tuesday. Although the county may be running a deficit as high as $17 million, he declared that Rockland has turned the corner financially. Most Rockland County legislators weren't buying it. They also expressed doubts about Vanderheof's plan to sell the Summit Park Nursing facility to close the budget gap.
On Thursday, Rockland's NYS Senator David Carlucci called on Indian Point to make their earthquake contingency plan public. According to the U.S. Nuclear Regulatory Commission, Indian Point has the highest risk of earthquake damage in the country.
Nyack's Board of Education announced their proposed 2011 budget which includes higher taxes, teacher layoffs and an additional $93,000 for security — presumably to reinforce last year's imposition of a no-fly zone for Freshman lunch. Comments from parents — mostly educators — are dismissive of Governor Cuomo's proposed 2 percent tax cap.
Clarkstown announced a community based initiative to ensure that residents with a hearing impairment have an easier time communicating with local law enforcement officers during routine traffic stops.
Responding to a recent Supreme Court Decision allowing Topeka's Westboro Baptist Church to protest at military funerals, Rockland County Legislator Ed Day introduced legislation to create enforceable buffers from military funerals being conducted on county property. In Albany, Senator Carlucci voted in favor of legislation prohibiting disruptive behavior within 500 feet of funerals for  members of the military who died while serving. In November 2010, Topeka's Westboro Baptist Church feigned a protest in Nyack regarding Nyack High School's performance of The Laramie Project, a play about the murder of a gay University of Wyoming student.