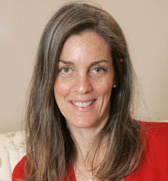 By Tina Traster
Lately, I've been feeling like Jimmy Stewart in '€œRear Window'€ '€" but in the suburbs.
Why haven't I seen the school bus stop next door? Why is there only one car going in and out of the driveway? What's happened to the wife and teenage daughters?
On a typical suburban street, such a mystery easily would be solved by popping by or picking up the phone. At the very least, I could call another neighbor and ask what's going on at so-and-so's house.
But not on this road. I live on an undulating mountain pass '€" the kind you might drive along if you were apple-picking upstate. Traffic moves fast. There are no sidewalks. At least one other person besides me raises chickens. I wouldn't be surprised if some folks tote shotguns.
It's the kind of road for people who live in a bedroom community but who'd rather not.
Dwellers include a small-press publisher, two sculptors, a moviemaker, a yoga teacher and holistic healers. I've met some of these people briefly, but most of us prefer a reclusive lifestyle. That's why we live on a road where there's never a block party or a communal effort to get a fallow townhouse development knocked down.
I think back to the Brooklyn house I grew up in. It was on a tree-lined street with small lawns and tidy back yards. Houses were in spitting distance of one another. We could see directly into our neighbor's kitchen.
I remember gazing through the window while we cleared dishes after dinner. The husband and wife next door would become quite animated sometimes, moving in circles around one another, arms gesticulating. Were they quarreling or cavorting? It was an intriguing mime act to decipher.
When I ask my husband what he thinks happened to the wife and girls from next door, he says, '€œHas anyone looked in the wood chipper?'€
He doesn't care. He doesn't wonder about strangers who live 200 feet from us. I'm not sure why I do.
After weeks of concluding I hadn't seen the family, I made an intentional effort to see if the school bus was still stopping at their house. It wasn't. During the long, snowy winter, I'd only seen the husband outside, shoveling '€" and only occasionally.
Then I remembered something: A few months ago, I'd noticed a U-Haul in their driveway. I assumed one of the girls was off to college.
Like Stewart's character, I am overcome with curiosity '€" and theories. Is the couple going through a divorce? Did something terrible happen? Is it temporary or permanent?
My antenna is up.
Meanwhile, another mystery is dividing my detective time.
Several weeks back, I saw my elderly neighbor from across the street brought home in an ambulance, on a stretcher. From my window, he looked very withered and old. He is, by now, at least in his early 90s.
When we moved in nearly six years ago, he tottered across the dangerous road and introduced himself while we were doing a fall cleanup outside.
He'd been living on this road for a half-century. He told us stories about knowing people up here who used to trap minks. He was here before the New York State Thruway cut through Rockland County and brought a stream of traffic to our road. He was amused by the recent installation of sewers. He complimented us on rescuing the dilapidated farmhouse we bought and bringing it back to life.
What I remember most keenly about him was how much he loved living on this mountain road; he treasured the wildlife at his doorstep.
That was the longest conversation we ever had. After that, he occasionally waved while he was picking up his mail. Over time, I noticed he stopped driving. He no longer ambled down his long driveway to collect the mail. His son who lives in a neighboring house does that now.
The other day, I saw an ambulance with flashing lights return to his driveway. I think this time it was taking him away.
As the tires crunched down the gravel, my eyes welled up, over someone I never knew. Perhaps that's what made me sad.
Tina Traster writes the New York Post's '€œBurb Appeal'€ column and the '€œThe Great Divide'€ at HuffingtonPost.com. '€œBurb Appeal: The Collection,'€ a set of Tina's columns and articles, is now available in print and as an eBook at Amazon.com.