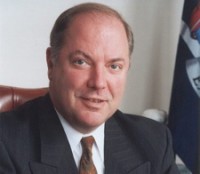 New City, March 15 — Rockland County Executive. C. Scott Vanderhoef told the County Legislature that elected officials have to "find ways to rebuild the structure of government, renew our commitment to it, and reconnect with the people we are here to serve." Vanderhoef reviewed the State Of The County for legislators on Tuesday.
Rockland County faces a 2001 operating deficit as much as $5 million. On Jan 11, NYS Comptroller Thomas DiNapoli's office notified the county that they would be conducting an audit of the county's finances. Vanderhoef blamed many of the county's difficulties on NY State government and noted that the county's bond rating is improving. "Even as dysfunctional Albany continues to force the bitter taste of poor financial  planning and management down the throats of increasingly vulnerable county governments, I am proud to say that Rockland has weathered this financial storm far better than many other counties across New York." Vanderhoef says Moody's gave Rockland its highest rating for short-term borrowing earlier this month.
While heartened by the recent news, county legislators remained cautious about the state of Rockland's finances. "While I do share his sense of optimism about where the county is heading, in my view we must assess the results of the State Comptroller's office," says Rockland County Legislator Ed Day.
Vanderhoef says that Governor Andrew Cuomo's proposed two percent property tax cap will put counties like Rockland into a "financially untenable position." Nine state mandates account for about 90 percent of counties' tax levies on average statewide. "Without true mandate relief, counties across the state will be thrown into utter financial turmoil." As an example, Vanderhoef said that Rockland County Medicaid payments account for 110 percent of property taxes revenues.
First elected in 1994, this was Vanderhoef's 18th State of the County Address. Some of the other issues covered included:
Plans to sell Summit Park Nursing home to a Public Benefits Corp (PBC): Vanderhoef warned that if the legislature didn't approve the Home Rule PBC request designed to plug an $18 million budget gap the county would be forced to increase taxes, reduce services and furlough staff. Options include a .25 percent  increase in the county mortgage tax, creating a three-percent hotel/motel room tax, 30-day annual furloughs for county employees.Day spoke for many legislators expressing concern about selling Summit Park. "We also must navigate through his proposal for a Public Benefit Corporation, as it would define how we deliver health care going forward in our county along trying to gain confidence in his belief that it bring in the expected revenue projections he included in his 2011 budget, for if it does not, it will create a deficit I fear we would not recover from."
Asking for shared sacrifice to reduce cost and streamline services: "Tonight,
we ask this Legislature to join us in a renewed appeal to our unions to join us in our effort to keep the cost of government from overwhelming our residents."
Creation of a County Jobs Database: "Rockland's local employers [will] post job openings on the County website, so that local residents will have a '€œone-stop-shop'€ when looking for work." The database is planned to launch before the end of 2011.
Completion of "Rockland Tomorrow," an updated comprehensive plan for the county.
In the past year, the Rockland County's Youth Bureau Americorps Program provided almost 20,000 of service to non-profit agencies, schools and municipalities.
Rockland's seniors received 430 home visits for handyman chores, 3,426 taxi ride vouchers for medical appointments and 35,000+ hours of homecare to help Rockland's older adults.
Vanderhoef said the count's 2006 joint acquisition of the Cropsey Farm will '€œbear fruit'€ in 2011. "Five of the 24-acre farmland will be used as active farmland for the first time since we preserved it under our Open Space Program nearly five years ago." The county partnered with Clarkstown and the Rockland Farm Alliance (RFA) to implement a Community Supported Agriculture (CSA) initiative. "Members buy shares priced at $500 annually, and, in return, receive vegetables and other produce grown organically on the Cropsey Farm," says Vanderhoef. "I'm proud to report that of the 180 shares available, 100 have already been sold in anticipation of an initial spring 2011 planting."
Source: Rockland County Executive's State Of The County 2011 Address, 3/15/2011.
See Also: