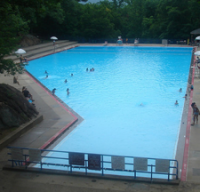 Are you whistle worthy? Love the sun and the outdoors? Instead of flipping burgers or working in retail for the summer, apply now to be a NYS Park Lifeguard! In this rewarding position, you can help keep thousands of swimmers safe this summer.
The Palisades Region of New York State Parks & Recreation To Offer A Free LIFEGUARD QUALIFYING EXAM for Summer 2011 Seasonal Employment .
Please pre-register by calling 845-786-2701 extension 320 or email Erin Martin at Erin.Martin@oprhp.state.ny.us
A Lifeguard Qualifying Exam, which consists of demonstrating Swimming Ability, CPR and Lifeguarding Skills, will take place at the Monroe Woodbury Middle School (199 Dunderberg Rd. Central Valley, NY 10917) at 9a on Sunday, March 27, 2011.
Palisades Interstate Parks provide rewarding and exciting lifeguarding opportunities to qualified people every summer at pools and beaches located in Rockland, Orange, and Ulster counties. These positions provide excellent summer incomes while serving the public, as well as allowing young people to experience responsibility and personal growth.
The Palisades Interstate Park Commission (PIPC) administers 28 parks, parkways, and historic sites for the Office of Parks, Recreation and Historic Preservation in New York as well as the Palisades Interstate Park and parkway in New Jersey. For more information about New York State parks and historic sites, please visit www.nysparks.com, for information about the New Jersey section of the PIPC please visit www.njpalisades.org, and for more information about the Palisades Parks Conservancy and the Palisades Interstate Park parks and historic sites, please visit www.palisadesparksconservancy.org.
Photo: Bear Mountain Swimming Pool. Credit: A. Belani via Flickr