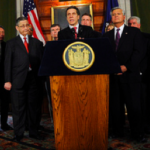 New York hasn't had a state budget approved earlier than April 1 since the last time a Cuomo was governor. If both the Senate and Assembly can approve the budget before Friday, Andrew will share that distinction with his father, Mario, who turned that feat in 1983. Last year's NYS budget was finished five months late.
"I believe this budget puts us on the right path," says Governor Andrew Cuomo. "It closes a $10 billion dollar deficit with no new taxes or borrowing, redesigns government to force it to cut waste and inefficiency, and finally delivers real results for hard-working families across New York State."
Senate and Assembly leaders gave Cuomo most of what he asked for in his initial budget plan. NYS will not add any taxes to make up for the revenue shortfalls but instead cut spending by two percent. The proposed $132.5 billion budget could, however, mean layoffs for 9800 state employees if unions won't agree to $450 million in reductions.
Of the original $1.5 billion in proposed cuts to education, $270 million was restored in the final deal. $98 million of that total will go to funding private schools for deaf and blind children. Another $500 million will be awarded to school districts that demonstrate improvements in student performance structural changes to improve efficiency.
Cuomo, in consultation with the Assembly and Senate, will eliminate 3700 prison beds in response to a shrinking inmate population.
"Government had to tighten its belt with the same sense of urgency that working families have been tightening their belts since the economy went into freefall in 2008," said Assembly Speaker Sheldon Silver. "Working with the governor, we were able to achieve critical restorations which will soften the cuts affecting working families, our senior citizens, our most vulnerable populations and the children in our classrooms," he said.
Cuomo forced the hand of the Assembly and the Senate by threatening to implement his own budget proposal if a deal wasn't done by April 1. That tactic would have shut down the state government if legislators failed to approve the governor's plan by Friday.
Sources: