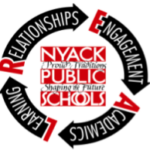 Nyack, March 29 — Nyack Public Schools has hired Dr. James Montesano as its next superintendent. Montesano, who will be leaving a superintendent's position in Paramus, NJ, will replace interim superintendent Jason Friedman. The board of education has been searching for a replacement since last August when Dr. Valencia Douglas resigned as head of Nyack Schools.
Nyack's school trustees accelerated their hiring process after Governor Andrew Cuomo introduced legislation last month to limit superintendents' salaries to $175,000 or less a year. Fears that this legislation would be included in next fiscal year's NYS budget proved to be unfounded.
Montesano has been superintendent in Paramus since 2008. The Northern New Jersey K-12 school district has 4,222 students and an annual budget of $78.3 million. Nyack has about 2900 students and an 2010-11 proposed annual budget $70.8 million. Montesano comes from a district that has felt the belt tightening pain that Nyack is beginning to feel: on Monday, the Paramus school board adopted a new budget which is $350,000 less than last year.
Prior to leading Paramus' schools, Montesano worked as Superintendent of Schools and Director of Curriculum in Dumont, NJ. If there is such a thing as a superintendent's gene, he has it: his father and three of his brothers have served as school superintendents.
Nyack's new superintendent has a ED.D. from Rutgers and a Masters in Administration from Seton Hall. He received a BA from Lycoming College.
Sources: Nyack Schools, NYT, NorthJersey.com via Google Docs, Education News
See Also: Montesano leaving Paramus for post in Nyack, NorthJersey.com, 3/30/2011