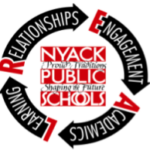 by Richard Dysinger
Nyack, March 18 — It was a somber and emotional night on Tuesday when Nyack's School Board unveiled the budget proposal for 2011/2012. The budget plan includes a 2.9 percent tax levy increase and layoffs for up to 30 teaching assistants, eight Special Education Teachers and 12 elementary and secondary school teachers.
Reaction to the proposed budget included tears from board members and gasps of disbelief from the audience.
Last year when I  was a candidate for the School Board, it was remarkable how many times administrators and candidates proudly asserted that there would be no teacher layoffs as a result of the 2010-2011 budget. Now we must face the facts as we are about to layoff as many as 50 teachers and teaching assistants.
In the private sector, the #1 rule of sharing bad news is to say it fast and say it plainly. So here it goes: Ladies and Gentleman of the Nyack School District, fellow citizens, parents, students, we are getting ready to essentially gut through the loss of a significant number of professional personnel, the school district we are rightly proud to call our own.
The general consensus from the district was that as draconian as these measures might be it was unthinkable to ask the citizens of this district to approve a budget that might mitigate these layoffs if it exceeded three per cent.
So, I am going to say the thing which cannot be said, the question that no one seems willing to ask: are we willing as a community to shoulder the additional sacrifice incurred in a four percent tax levy increase or a five percent tax levy increase in order to prevent or at least minimize these extensive layoffs, layoffs that will result in the loss of over 40-50 educational professionals that do the day in and day out work of teaching our students and building the basis for our future prosperity?
Richard Dysinger was a 2010 candidate for the Nyack Schools Board of Education.
See also: 2010-11 Nyack Schools Proposed Budget and  Powerpoint presentation