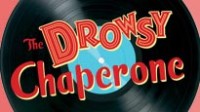 by Kathy Tappenden
On April 1, Nyack High School invites you to spend a day in a dingy apartment in NYC city listening to show tunes. That's the setting for the high school's spring musical, The Drowsy Chaperone, a Tony award winning homage to the American musicals of the Jazz Age.
The Drowsy Chaperone is narrated by the character called "The Man in Chair," played by Martin Reinhardsen. The plot of the show-within-a-show centers on Janet Van De Graaff, played by Lyle Oberman, a showgirl who plans to give up her career in order to marry an oil tycoon, Robert Martin, played by Alec Biello. Chris Guardaro plays Feldzieg, her producer, and Lucas Ruderman and Joe Tribuzio, Jr. are great as two pun-happy thugs. Jeremy Gottfried is Aldolpho, a bumbling Latin Lothario, and Janet's "Drowsy" (i.e. "Tipsy") Chaperone is played by Raina Sokolov-Gonzalez. The talented ensemble makes the songs and dance numbers come alive.
The Director and Set Designer, Joseph J. Egan, Assistant Director and Choreographer, Greg Baccarini, and Musical Director, Kurt Kelley, are doing a great job with the very talented cast of 24 students. The orchestra promises to sound professional and more thrilling than ever. The stage crew is building another marvelous set while behind the scenes.
There will be five performances: Friday, April 1, Saturday, April 2, Friday, April 8, Saturday, April 9 – all at 8p with a matinee performance is on Saturday, April 9 at 2p.
Tickets are priced at $12 for adults and $7 for students. Senior citizens are free. Advance ticket sales will take place from 6 pm to 8 pm in the high school's main office on March 24 and March 29. They will also be available on March 30 from 2:30p to 4:30p.
All patrons are invited to partake of the special Stage Door Luncheon and Auction fundraiser on April 9 at 12:30p. Ticket prices are $20 for adults, $15 for students and $8 for senior citizens. The ticket includes admission to the show, reserved seating and lunch.
Mark your calendars. Don't miss this very entertaining musical presentation. Bring the entire family for an evening of great entertainment.
Kathy Tappenden and fellow co-producer Simona Moldovan are responsible for publicity and fundraising for Nyack High School's performance of The Drowsy Chaperone.