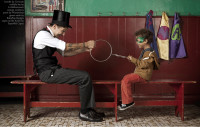 by Katie Rosa Marchese
Mario The Magician, Nyack's resident magician, brings his special brand of D.I.Y. magic classes to West Nyack's Steeltoes Dance Studio this summer. Mario will be teaching a series of classes geared towards grades K through 2nd.
Each class will include instruction on how to learn, create, and perform magic tricks with hand-made props using everyday objects, as well as lots of performance time by Mario himself. The series is catered towards the next generation of art-loving, magic-inspired individuals.
Classes are Tuesdays and Thursdays, July 5 – August 18, 2011.
SESSION I will be held afternoons from 3:45 to 4:45p.
SESSION II is from 5-6p
Register before April 15th to get $15 off the $275 registration fee! For more information, contact
katie@mariothemagician.com
or call  917.605.0662.