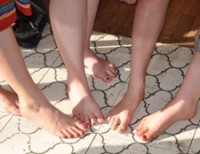 Nyack merchant Maria Whittingham wants to do a solid for the shoeless. The second annual "TOMS One Day Without Shoes" event will be held in Nyack on April 5.
Millions of children around the world grow up without shoes, at risk for infections and disease. '€œLast year we had a huge response and we were able to raise local awareness of the impact that not wearing shoes has on so many lives," says Whittingham, owner of Maria Luisa Boutique and ML Gifts & Accessories on South Broadway. ML Gifts has donated over $1,000 to this cause.
Whittingham and her staff are asking everyone to go barefoot for part of the day on Tuesday, April 5, joining communities across the country and around the world in barefoot events throughout the day.  Nyack Mayor Richard Kavesh will lead a barefoot walk from ML Gifts & Accessories to Village Hall at 4:30p.
Planned events from 12n to 6p include a silent auction for one of a kind pre-customized TOMS by local artists. Artists will be available to custom style TOMS shoes throughout the day. All proceeds will go to support "One for One," a program that has donated over a million pairs of childrens' shoes since September 2010 through the TOMS shoes company.
"So many of the world's children in developing countries grow up without shoes, having to walk miles to get food and water, medical help, and attend school," says Whittingham. One Day Without Shoes participants can pledge their commitment and connect with like-minded participants online at OneDayWithoutShoes.com.
"As a boutique that usually sells footwear, it's unusual for us to lead this barefoot charge to increase local awareness of this worldwide issue," says Whittingham.
ML Gifts and Accessories will celebrate One Day Without Shoes from 10a-6p at its 75 South Broadway location in Nyack.
See also: Facebook/OneDayWithoutShoes, jessiekatz.blogspot.com, OneDayWithoutShoes.com, ShawnaLHandke at esty.com