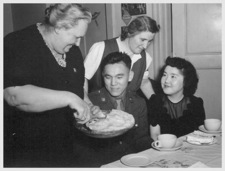 by John Patrick Schutz
The combined earthquake/tsunami/nuclear tragedies in Japan this week led me to Nyack's wartime history and a memory of which we can all truly be proud: Nyack's WWII U.S.O. and their commitment to our Japanese-American soldiers.
It was not easy being a Japanese immigrant living in the United States during World War II, and in a way it was worse being '€œNisei'€ '€" that is, a United States citizen whose parents immigrated from Japan but was born here (if it was your grandparents who immigrated you are '€œSansei'€). Naturally, those folks of Japanese heritage born here as citizens thought of themselves as just that '€" Americans '€" when suddenly their neighbors began to think of them as being enemies and foreigners '€" when they were already somewhat alienated from their parents' generation having grown up in American schools with an American mindset. Though their parents, the '€œIssei'€ had to have been astonished, frightened and saddened by the seizing of their property and their imprisonment in internment camps during WWII, for the Nisei those emotions had to be joined by one even stronger '€" anger. Their own country had imprisoned them, seized their homes and their assets, and established laws that barred their presence on the West Coast and denied them the right to join their own country's armed forces. About 110,000 Japanese-Americans spent the war in these camps (along with about 10,000 German-Americans and about 500 Italian-Americans).
And yet, in 1943 '€" when the ban on serving in the military was lifted on Japanese-American men '€" those men signed up in droves. The 442nd Infantry Regiment, made up entirely of Nisei soldiers, was sent to the European front and remains the most decorated regiment in the history of the United States Armed Forces including 21 Medals of Honor. And all this while their wives, mothers, fathers, sisters and younger brothers were still held in camps back in the USA. So much for the supposedly '€œquestionable loyalty'€ of Americans of Japanese heritage. Ironically, the 552 Field Artillery Battalion of the 442nd Infantry would free the surviving prisoners of Dachau while some of their own relatives lingered in interment back home.
How does Nyack fit in? By 1943, the largest of the military embarkation points on the east coast was built right over Clausland Mountain from Nyack in Orangeburg, named Camp Shanks, but nicknamed '€œLast Stop, USA.'€ Over 1.5 million G.I.s would depart from Camp Shanks for Europe '€" and each night as many as 1600 young men from the Camp would find themselves walking the streets of Nyack (and we think the bar situation is somewhat out-of-control NOW? Though to be fair, as mentioned in a prior post the Broadway Theater in Nyack held more than that number). Some of the soon-to-be-decorated Nisei units would pass through Camp Shanks and those soldiers would head to the streets of Nyack looking for entertainment like any other American G.I.s.
The Nyack U.S.O. was located across the street from the Theater in what is now The Runcible Spoon (my favorite hangout attracted hoards of uniformed visitors back then too, only now the uniforms are those of bike teams'€¦) and was extremely popular with the service men. Many locals volunteered their time to feed and entertain the young men about to risk their lives '€" and found it a very rewarding experience. Nyack U.S.O. hostesses in the pictures include Mrs. J. Knapp, Mrs. T. Rudden and Mrs. J. Maisseo. In March, with the first large group of new Japanese American soldiers due in Camp, A.L. Esplin and Helen Zolkis directors of the Nyack U.S.O. and Peter Aoki of the Japanese American Citizens League met and decided to make a special evening for them. Through the Citizens League, Nisei young women living in New York City (WE didn't inter thankfully!) were invited to join the U.S.O. in Nyack for a special dance evening for the departing Nisei soldiers '€" 125 responded and came up for the event. The three organizers are pictured with Miss Kunimatsu of NYC and Private Kudo formerly of Los Angeles and whose family resided at the time in the Heart Mountain interment camp. Yuriko Amemiya, a Nisei modern dancer and member of the famed Martha Graham Dance Company and teacher at the NYC New Dance Group Studio was on hand that evening as well to perform for the 200 troops and 125 young ladies who attended the event. Known as just '€œYuriko'€ professionally, she too had originally been from the West Coast, sent to an interment camp but relocated to New York and Martha Graham's company in 1943.
For other towns and cities with U.S.O.s the event may have been radical, but'€¦ this is and WAS Nyack. It's not that prejudice or discrimination does not or did not exist here – it is simply that it is seldom allowed to take too much of a hold, or to overwhelm the hearts and minds of this special community '€" especially in times of great need.
If you'd like to show the people of Japan that in this time of need that Nyack still cares about the Japanese people, contact the Nyack Branch of the Red Cross at 143 North Broadway (845-358-0833) or www.redcross.org and donate to Japan Earthquake and Pacific Tsunami. People can also text REDCROSS to 90999 to make a $10 donation to help those affected by the earthquake in Japan and tsunami throughout the Pacific.
John Patrick Schutz is a realtor for Rand Realty in Nyack, NY. You can read his blog posts at AtHomeInNyack.