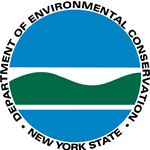 Nyack, March 9 — The NYS Department of Environmental Conservation holds a public meeting tonight at 7p in the Nyack Center to present remediation plans for removing soil along the Hudson River on Gedney Street at the foot of Main Street. The site is a former energy processing plant whose operations left coal tar residue in the ground surrounding the facility.
The Journal News reports the DEC plans to spend 6-8 months excavating contaminated soil in the shallow parts of the river. The property is adjacent to the Clermont Condominiums. A copy of the complete  plan can be found on the DEC website.
The Gedney Street facility, which operated from 1852 until 1965, is one of over 1,500 manufactured-gas plants that burned coal or petroleum to light and heat the homes and businesses. The process created coal tar and other byproduct contaminants that can cause cancer. The plants became obsolete in the 50'€²s when natural gas pipelines were constructed.
According to O&R, the Gedney Street facility made gas from coal and oil using the carbureted water gas process from 1890 until 1938. It served as a oil gas facility providing '€œpeak shaving'€ after 1938 used only during times of peak demand.
Orange and Rockland, which has already spend $14.5 million on the site, will spend another $12 million on Hudson River remediation. The property is owned by Presidential Life Insurance Company.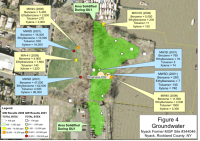 The DEC a short MGP history of MGPs on their website:
For a period of over 100 years, manufactured gas plants (MGPs) were an important part of life in cities and towns throughout New York State and the United States as a whole. They had their beginnings in the early 1800s, providing small amounts of gas for street lighting systems. By 1900, production had greatly increased, and gas was being widely used for heating and cooking. Most towns in New York with populations of over 5000 had at least one gas plant, and larger towns often had more than one. New York City had several dozen.
Source: Journal News, 3/8/2011
See also: