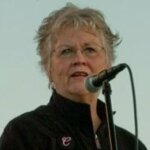 by Cliff Weathers
Rockland County Legislator Connie Coker informed members of the Orangetown Democratic Committee today that she will not seek reelection in the 17th district. Coker was originally appointed to the Legislature after Denise Kronstadt stepped down, she was subsequently elected to finish the term and then reelected in 2007.
Coker, of South Nyack, has been a tireless advocate of the environment and an independent voice among Democrats in the Legislature. She bucked her party and voted against C. Scott Vanderhoef's proposed County Budget last year and recently voted against legislation allowing the County to pursue selling the Summit Park Nursing Home to a Public Benefit Corporation and acquiring more additional debt to fix a hole in the 2011 Budget.
In her email, she told committee members:
After several months of careful and difficult consideration, I have decided not to run for another term as County Legislator.  I appreciate the opportunity to be part of County government and to work with people to protect our water, open spaces, and critical services, including Health, Planning, Environmental, and Social Services.

At the end of this term I intend to return to the work I am called to do as a Midwife and as a community activist.  But until December 31, 2011, I will continue to devote myself full time to the responsibilities of being a County Legislator.
Coker is the third County legislator that will not run for reelection. Robert Jackson of Nanuet, a Democrat from the 14th District, who was appointed to and later elected to finish the term of the deceased VJ Pradhan, announced he will not seek another term. Aney Paul of Clarkstown is the likely Democratic candidate this fall for that seat.
Also, Bardonia's Gerold Bierker, the 12-year Republican Legislator from District 9, directly north of Jackson's, announced that he is stepping down.
This article is reposted from Left of the Hudson: Progressive News and Views for the Lower Hudson Valley.