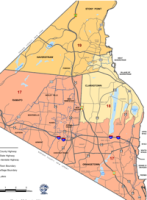 An analysis of census data shows that Democrats tend to be bigger than Republicans. That is, their election districts.
The Wonkster column in the GothamGazette has an analysis of current districts showing that Democratic districts tend to be larger than the "ideal" population size of 306,069 constituents and Republican districts tend to be smaller. Although this sounds like splitting hairs, it violates the "one man, one vote" principal.
Current NYS law allows a district to deviate from the target population number by plus or minus five percent. Govenor Andrew Cuomo introduced a new redistricting bill last week that would restrict district population variations to one percent.
Who deviates most from the norm? Rockland does, says the Wonkster:
Every person is supposed to be entitled to equal representation, but in New York some people are more equal than others. And those more equal New Yorkers tend to live in Republican parts of the state.
The district with the most people '€" 4.82 percent more than it should is 38 in Rockland and Orange counties, represented by newly elected Democrat '€" and dissident Democrat '€" David Carlucci.
The smallest district in terms of population '€" squeaking in under the 5 percent limits in at 4.95 '€" is the 48th, represented by Patty Ritchie. According to the 2000 census, her district has 29,926 fewer people than Carlucci's. The gap grows even wider if one look at the 2009 American Community Survey numbers. According to those, Carlucci has 47,906 more constituents than Ritchie.
All the other district that have more than 4 percent fewer people than the ideal are upstate '€"both Democratic and Republican districts.
To read the full analysis, visit One Person, One Vote — More or Less in the Gotham Gazette.
See also: