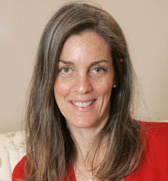 By Tina Traster
Anyone who's ever spent a winter week in Vermont or Canada's Laurentian Mountains knows how easy it is to get swept up in the dreamy idyll of living in a '€œplace like this'€ one day. There's a perpetual blanket of snow. The glow of candles flickering in windows and fires blazing in brick hearths. A red cardinal made redder by a backdrop of stark whiteness.
I used to fantasize about living in a '€œplace like this'€ every time I visited one. Now I know how it feels. Winter 2011 has given us nine storms and 63 inches of snow in the Hudson Valley so far.
My daughter's school closed four times for snow days, and there have been several delayed openings and one early dismissal. I don't think she had a full week of school during January.
We are toiling breathlessly to keep our six hens alive during our first winter of animal husbandry '€" jerry-rigging the coops with blankets, tarps and heating devices.
The locks on our old cars freeze constantly and the engines barely start. Power outages are frequent.
The front door shrinks when it's below 20 degrees. So when we leave the house, the door must be slammed approximately 10 times before the latch catches. When we return, every picture on the wall is tilted, like in a funhouse.
Oh, and speaking of fun, have you heard about the newest extreme sport? Collecting the mail. Thanks to the plows, there has sometimes been a mound of frozen ice in front of the mailbox. To retrieve mail, one must stand in the road and drape one's body over the igloo to reach inside the box. The consolation prizes? Scorching fuel bills and Lands' End catalogs that make you fantasize about '€" what else? '€" living in Vermont.
Nothing, though, has tested our mettle more than the driveway '€" or what's left of it. Normally, our long, skinny gravel driveway fits two cars side-by-side at the wider end. But after the post-Christmas Day blizzard, my husband and I did a do-si-do with our two cars, lining up one behind the other. Then an ice storm hit, and his economical but winter-challenged stick shift auto-froze in place. No amount of chipping away at ice or spinning tires nudged the car an inch.
For countless days, I offered him my all-wheel jalopy and experienced the life of a shut-in. Finally, a snow angel appeared just as my husband was once again urging his fossilized car to get a move on. A strapping guy '€" the kind who wears a T-shirt when it's 15 degrees outside '€" stopped his pickup truck in front of our driveway and asked if we needed help. He got behind my husband's car and successfully pushed it out of the driveway.
Everyone is in on this winter's complaint-fest. But I had to laugh the other day when my mother, who lives on the Upper West Side, lamented over canceled bridge games and difficult journeys down to Lincoln Center.
'€œBridge games,'€ I scoffed. '€œRight now, Ricky is in the basement using a blow-dryer to unfreeze our frozen water pipes! He has to bring hot water bottles out to Miracle [our hen] every few hours to keep her from freezing to death!'€
'€œWell,'€ she responded with a sniff, '€œthese are the choices you made.'€
My mother has never understood why I bought an old farmhouse on a mountain road 25 miles from the city. To her way of thinking, I should have stayed in Manhattan, or at the very least, chosen a lovely groomed Westchester suburb.
But I have no regrets about moving to our rugged Hudson River town. When it's all said and done, whatever wintry challenges we've muddled through have been offset by pleasure. Hunkering down as often as we have made us inventive: cooking soups and baking breads. Life slowed down, and our road became largely silent. We stayed in our pajamas all day. We drank hot chocolate and gazed out the windows, watching deer trudge in slow motion through deep snowdrifts. It's made me nostalgic about childhood winters I seem to remember but probably never had.
Maybe Vermont would be manageable after all.
Tina Traster writes the New York Post's '€œBurb Appeal'€ column and the '€œThe Great Divide'€ at HuffingtonPost.com. '€œBurb Appeal: The Collection,'€ a set of Tina's columns and articles, is now available in print and as an eBook at Amazon.com.