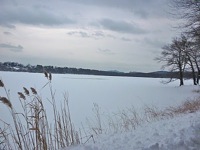 Congers, Feb 9 — The body of a missing 47-year old Valley Cottage resident who had been hiking in Rockland Lake State Park was found on Tuesday, according to Clarkstown Police. Colleen Murphy, who appeared to fall 300 down a cliff in the park, was found near the dog with whom she had been hiking.
According to Clarkstown Police, Murphy was an experienced hiker. Both Murphy and her dog Jemma were found dead by searchers on Tuesday evening.
"Unfortunately we may never know exactly what happened," said Clarkstown Police Dectective Timothy O'Neill told WCBS-TV.
Sources: WCBS-TV, WNBC-TV
See Also: MyFoxNY, Gather.com
Photo Credit: Pushing_Pixels via Flickr.com