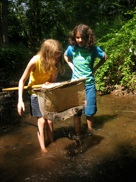 The Environmental Committee of Rockland's County Legislature will hear a presentation on the health of Sparkill Creek on Wed 2/9 at 6p.
Laurie Seeman, a member of the Rockland Coalition for Sustainable Water, will speak to the legislature about the importance of preserving Sparkill Creek and its watershed. Seeman conducts classes along the river to alert the public about the need to protect the creek from contaminates introduced through the watershed.
'€œMs. Seeman took the initiative to inspire and enlist local citizens to bring attention to the environmental issues that are pertinent to the Sparkill Creek," says Environmental Committee Chairperson Legislator Connie Coker.
The Environmental Committee will meet on Wednesday, February 9, 2011, 6p in the Rockland County Legislature Chambers, 11 New Hempstead Rd., New City, NY. (845) 638-5100. The public is invited to attend.
Photo Credit: Strawtown Studio