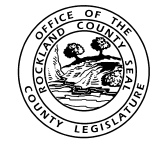 Remember that census form you filled out last year? The results are in and it's time for officials to draw the boundaries for new election districts. You can be part of the process by attending one of the public forums being held by the Rockland County Legislature's Special Committee on Redistricting.
Rockland County's 17 legislative districts will be redrawn to equalize the population across the county. Redistricting is required on county, state and federal levels to take into account population shifts that are determined by the census data collected every ten years.
The redistricting process begins in March after 2010 census data are released. New districts must be completed by early June to allow enough time for 2011 election petitions. All 17 seats in the legislature will be up for election in November 2011.
The county legislature's redistricting committee is co-chaired by Legislators Michael Grant and Ilan Schoenberger and includes Legislature Chairwoman Harriet Cornell and Legislators Connie Coker, Toney Earl, Robert Jackson, John Murphy, Frank Sparaco and Alden H. Wolfe. Independent consultant Geo Political Strategies will assist the legislature in the redistricting process.
Public forums are scheduled for 7:30p on Feb 23, 24 and 28 and March 2 at the following locations:
Feb 23: Haverstraw Town Hall 1 Rosman Rd., Thiells
Feb 24: Clarkstown Town Hall 10 Maple Ave., New City
Feb 28: Orangetown Town Hall 26 Orangeburg Rd., Orangeburg
Mar 2: Ramapo Town Hall 237 Rte 59, Suffern
Stony Point/Rho Building 5 Club House La., Stony Point