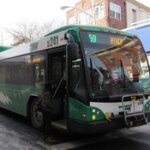 by Ian Mauro
Managing Editor SUNY-Rockland Outlook Student Press
Rockland County's Department of Public Transportation will hike prices and reduce services as a result of  county budget cuts.
The county's transportation department is proposing an alteration to all Transport of Rockland (TOR) bus routes along with an overall increase to fare rates including senior citizen and disabled fares. Of the ten service reductions, half of them are resulting in complete weekend service cancellations.
All riders regardless of route will now pay more for each ride. The increased prices are minimal with only an increase of up to $1.00 on the normal cash fares. Tappan ZEExpress (TZx) will rise from $2 to $3, while the normal TOR and TRIPS cash fares have only been increased by 50 cents. RCC commuters will now have to dig a bit deeper into their pockets, if only slightly.
In an effort to keep fares as low as possible they're only planning on cutting back or eliminating the routes and times with the least amount of affected riders.
Some of the proposed eliminations are cutting short schedules by a few hours such the TOR 95 into Haverstraw, which is ending its eastbound trips at 3:20p instead of 6:20p.
Others are simply terminating the early morning runs which take place from anywhere from midnight to 1:30a. However, most strikingly is Saturday services on four different routes are being cut entirely.
Some students have expressed concerns about this raise in fairs and cut in routes. Student Jose Juarez commented," As a working person, I will have to work an extra hour. It's money I could make but use instead on the bus."
Brian Salcedo, another student commented on the issue by saying "The late buses for 95 should stay running. Usually I don't know when ill be getting home, now I don't know if I could."
According to the Public Transportation Department, only around 20% of the revenue used to run the buses comes from the fares that they collect. The other 80% comes from state and federal subsidies, which is why the decreased revenues brought by the mortgage recording hits so hard. They also go on to add that even with the fare increase, the county is still well below the industry standard when it comes to percent of the cost paid by riders.
Two public hearings on the proposed changes will be held on Feb. 15 in the Palisades Center Mall. Comments can also be submitted as late as the Feb. 28 for review by the county.
The proposed changes are being called "tentative," relying on the public feedback to determine if it's acceptable to implement the plan in April. If cuts must be made, the department hopes to make them where they will hurt the least.
Although some students feel that their lives will be more difficult when these changes are enacted, none of the proposed route changes affect the RCC campus.
See also:
This article was re-posted from RCC's OutlookPress.com website.