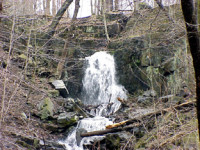 Know a Rockland County resident who's been good to Mother Nature? The county is accepting nominations for its annual Outstanding Environmental Volunteer Award. Mar 28 is the deadline for nominations.
The County Executive's Outstanding Environmental Volunteer Award recognizes environmental volunteers who care for parks and watersheds, encourage recycling and work to enhance and beautify the environment. County Executive C. Scott Vanderhoef will honor this year's winner at a tree planting ceremony at Kennedy Dells Park April 20.
To be eligible to receive the award an individual must be at least 18 years of age and a Rockland County resident.
Contact the the Division of Environmental Resources for nomination forms at env@co.rockland.ny.us or 845-364-2670.
Photo: Buttermilk Falls Park, West Nyack. Credit: Rockland County