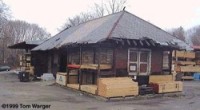 If you are a train buff — and have always wanted to own a piece of history — here's your chance. All you have to do is figure out how to move it to your backyard. Clarkstown is trying to find a new home for the "orphaned" New City Railroad Station. It's free for the taking to a loving RailFan or caring historian — with the resources to move it out of harm's way and restore it to its former glory. Here's the press release:
ORPHAN RAILROAD STATION
Available for IMMEDIATE ADOPTION
Free to a Good Home
The offices of the Town Historian and the Historic Review Board of the Town of Clarkstown, in Rockland County, New York, are attempting to facilitate the salvation and restoration of the original NEW CITY RAILROAD STATION, which is in danger of demolition to make way for the construction of a senior citizens housing project on the site.
The owners/developers of the property have indicated a willingness to give the station away for free to anyone or any organization interested in moving it to another location. We are assisting them in accomplishing this goal, while at the same time preventing its destruction and encouraging its restoration for any useful purpose. Current estimates are that work will probably proceed in the spring of 2011, giving prospective Salvationists a few months, at most, to accomplish this goal.
The station is entirely of wood frame construction, with a slate roof. It was constructed circa 1875 as the original and final station on the '€œNew City Branch" of the PascackValley Railroad, a branch of the Erie Railroad which ran from Hoboken, N.J. to Suffern, N.Y. The Pascack Valley Railroad was extended from Park Ridge, N.J. to Montvale, Pearl River, Nanuet and Spring Valley in 1872, followed the next year with an extension through Monsey, Tallman and Airmont to Suffern, where it connected with the Erie Mainline. The section from Spring Valley west was eliminated in the 1950's. Two branches going north were discontinued in the 1940's, including the New City Branch from Nanuet through Bardonia, Germonds and Durant, terminating in downtown New City; and the Haverstraw Branch, from Spring Valley through Union, New Hempstead, Pomona, Mt. Ivy, Thiells, West Haverstraw and its terminal station, downtown Haverstraw.
The station measures 38 feet in length by 16 feet in width, with a six-foot roof overhang on all four sides. The station was never upgraded, and is in its original condition. It has been used for the past half-century by the Vanderbilt Lumber Company as a storage building for lumber and building supplies. It has no utilities, and has seriously deteriorated over the past 50-60 years, especially the edges of the six-foot overhang on all four sides.
Preliminary '€œguesstimates" by contractors have indicated the building may be capable of being picked up and moved in it's entirely by flatbed truck, or can be dismantled, moved, and reassembled at a new site. We have no cost estimates or feasibility studies at this time (10/1/2010) for either method of moving.
Interested parties may contact the Town Historian, Robert Knight, at (845) 598-5306 or by email at historvbuffbob@gmail.com for further information.
Source: TrainTicketsOnline.net
See also: TZxBus.com, M-F customized Tappan Zee Express bus schedules
Photo: New City Railroad Station. Copyright 1999, Tom Wagner via NY.ExistingStations.com