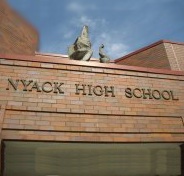 by Dave Zornow
Last Fall, Nyack's Board of Education committed $167,000 to enforce a new policy to restrict off-campus lunch privileges for 9th and 10th graders. The program was principally aimed at a small group of students who habitually cut class, had poor grades and hide out in school or in the woods behind campus.
California's Anaheim School District has a similar problem which they are addressing with a different solution. School administrators are using GPS technology to target the offenders and leave the attenders alone.
PCMag.com reports that 7th and 8th grade students with more than four unexcused absences are assigned a portable GPS units to carry and track where they are throughout the school day.
To make sure that said students are in school when they should be, the students are required to check in using the devices during five preset intervals: When they leave for school in the morning, when they arrive at school, lunchtime, when they leave school, and at 8p each day.
The Anaheim program, funded by a state grant, also includes wake-up calls and coaching for the habitually late to make it to their class on time. The technology doesn't come cheap: Anaheim pays about $400 a student for the GPS units.
Nyack School board President Mike Lagana and Trustee Dan Juechter original proposal asked for $300,000 to enforce a "closed campus" for 9th and 10th graders. The program was controversial because it rescinded open campus lunch privileges for all students in the lower grades when statistics showed that the problem affected a minority of students in all grades. In November, Nyack's Board of Education approved a lower expenditure of $167,000 to install more cameras, hire additional security guards and add video monitors with cable TV to the lunchroom.
There's a lot we don't know about Anaheim's pricey hi-tech program. However, at $400 a pop, Nyack could have bought 100 units to track classless students, spending only $40,000 and saving $127,000. As the board contemplates deep budget cuts for the upcoming school budget, you have to wonder if they wish they had implemented a cheaper and simpler solution focused on the students with the attendance and grade problems.
See also: