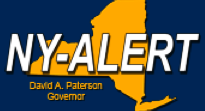 The National Weather Service has declared a flood watch from 7a Friday through Saturday morning in the Lower Hudson Valley and NE New Jersey.
Total rainfall of 1.0 to 1.5 inches with locally higher amounts up to 2.0 inches is expected to occur Friday morning into Friday afternoon.

The potential for brief heavy rainfall from embedded thunderstorms could further exacerbate rapid water rises across the watch area. The combination of current snow pack, frozen ground and high rainfall rates could result in significant flooding of urban areas roadways and underpasses as well as small stream flooding.

Even though the rain is expected to taper off Friday afternoon, the potential for flooding on small streams may continue through Saturday morning due to rain runoff.
Source: National Weather Service, 2/24/2010