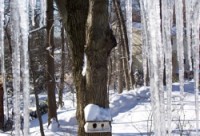 Rockland County, Jan 4 — If you are looking for a weekend break from the miserable weather the National Weather Service has issued this warning: FergitAboutIt. And Rockland County has issued a warning and advice for all of that snow which may have accumulated on your roof.
There's a Winter weather advisory in effect from 4a-10p est Saturday for snow and freezing rain with accumulations of 1-4 inches of snow.
The extreme cold and the extraordinary heavy snow can combine to create the potential for roof collapses. A press release from Rockland County includes tips for owners of structures with low sloped roofs, agricultural buildings and parking decks. Two parking garages in Rockland County collapsed during storms in Feb 2009 when the weight of the snow on the parking deck above exceeded the design load of the structure. You can find tips on how to clean snow from your roof online.
Here are more details on tomorrow's weather form the National Weather Service:
Accumulations: 1-4 inches of snow and a glaze to up to a 1/10 of an inch of ice. The highest snow amounts are expected over northern portions of the Lower Hudson Valley.
Timing: snow develops late tonight then gradually changes to a Wintry mix of snow and freezing rain Saturday morning, then a mix of snow. Freezing rain and rain Saturday afternoon before changing back to all snow before the precipitation ends Saturday evening.
Impacts: Road conditions will become slippery by Saturday morning, especially on untreated surfaces. Bridges and overpasses: caution is urged while driving from late tonight into Saturday evening.
Precautionary/preparedness actions: A winter weather advisory means that periods of snow. Sleet or freezing rain will cause travel difficulties. Be prepared for slippery roads and limited visibilities and use caution while driving.
Source: Rockland County, National Weather Service
See also: weather.TheFunTimesGuide.com