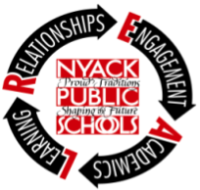 March 18 will be just another school day in Nyack to let students make up for one of the four days lost to this Winter's weather cancellations. It was originally a day off for kids as staff were scheduled to have a Superintendent's Conference Day. If another cancellation is required, Spring Break (aka April Recess) will be shortened by one vacation day, April 25.
Here's the official announcement:
Due to the challenging weather conditions this year, the Nyack School District has  changed its snow make up day to Friday, March 18 an originally scheduled  Superintendent's Conference Day.

Four school days were missed thus far this year due to the weather conditions.  Since three days are built into our calendar, one day has to be made up. According  to the adopted 2010-11 calendar that day was identified to be Monday, April 25, the end of the April recess.

The Board, upon the Superintendent's recommendation, has approved to change this make up day to Friday, March 18, originally a Superintendent's Conference Day.  The decision takes into consideration that more snow days can be anticipated this year and the next make up day would originally have had to have been Monday April 18, the first day of spring recess. Upon consideration, using March 18 as an instructional day seems to be the less disruptive to our staff and families.  Professional development will be made up in other ways. If another make-up day is needed it will be April 25.

Families are advised to contact their child's teacher family plans will prevent a child from being in school that day.  Faculty has been asked to provide students with any work they missed that day.
Source: Nyack Schools