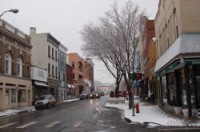 by Scott Baird
There was a minor "media storm" created by an article in the Journal News on Feb 8 about Nyack's active nightlife.
While the article itself is not particularly slanted – the resulting media frenzy on WCBS 880 and Cablevision's News Channel 12 has not been very flattering to Nyack.  After listening to these news reports, you would think that Nyack has a "Cairo-style" riot every Friday and Saturday and is littered with urine, vomit, and broken glass every Saturday morning and Sunday morning.
Those of us who live here know that this is very far from the truth.  We have a restaurant scene that is the envy of Rockland county.  Our restaurants are patronized by seniors, families and young adults from all over Rockland, Westchester, North Jersey and New York City.  Unfortunately, the criminal actions of a few individuals have become a nuisance.
The meeting referenced by this article is an example of why Nyack is a great place to live and work.  Representatives of the village board, the Orangetown police, local non-profits, merchants, and business leaders sat in an open forum and brainstormed how to make Nyack a better place.  That is the kind of open discussion and inclusive public policy that has kept Nyack's downtown alive during the same recession that has killed many other downtowns.
Those who live here know that the caricature that is presented in this article and others is not true.   Nyack is a great place to live, work, and play!
Scott Baird is the president of the Nyack Chamber of Commerce.